Did you know that you can achieve your desired fitness goals in the comfort of your own home? Or, even better yet – wherever you can bring your laptop or even your phone? Yes, it can happen! No need to drive to the gym and pay for a gym membership anymore. There are personal trainers available online. All you need to do is pick the perfect one for you.
Why online fitness training you may ask? Because it is quite flexible for any schedule, and it is budget-friendly. But to receive good value for your hard-earned money, it is important to find a certified personal trainer that can design an effective workout program for you, communicate consistently, motivate you, and hold you accountable.
Lucky for you, we have created a list of the best online fitness trainers that can help you meet your goals, whether you want to lose weight, tone, or bulk up. Check them out below!
Kickoff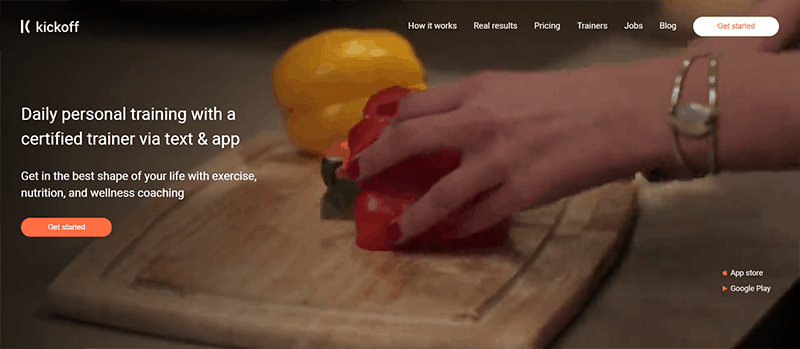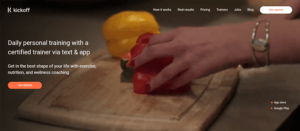 Website: https://www.trainwithkickoff.com/
If you are looking for a platform that offers world-class training that you can access remotely, Kickoff is a wise choice for you. This platform has diverse certified personal trainers, who are highly motivated to help people achieve their desired health and fitness transformations, in record time.
The success of any online training is based on finding the right coach that will be there throughout your fitness journey to help you achieve your goals. This is one area in which Kickoff excels. For instance, if your goal is to lose weight or build muscle, Kickoff will match you to an experienced and knowledgeable trainer, who can help you achieve your goals. The platform also has an app. It is very easy to download it and log in to get started.
The kickoff personal training app also features an intuitive interface, making it super easy for users to navigate and use. On the app, you will also interact with your trainer, which you will meet first via video chat, but you will keep in touch through the app by text. You will also have access to your meal plans and other helpful tips and features through the app. There are no chatbots, just real people helping you on your journey to better health.
Features of Kickoff
On Kickoff, participants get matched with trainers based on their personality and primary fitness goal. The platform features a lot of highly experienced, certified fitness trainers and dietitians, that can help you get the results you want as long as you put in the work.
The entry questionnaire is quite thorough, which is perfect for helping match you to the right trainer. Plus, the initial video call helps your trainer understand what you need from a workout and diet program. Due to the nature of the one on one sessions, this platform makes it easy for you to get the perfect diet and exercise program as it is specially designed for you.
The Kickoff personal training app is feature-rich and makes communication between participants and trainers a breeze. Upon registering, you will receive detailed workout plans (the step by step process), including meal plans, sleep, and wellness coaching plans to follow.
Participants can have video conversations with their assigned trainers on this platform. The app also makes administering nutrition and workout plans and tips easy as well. Kickoff offers a risk-free 30-day money-back guarantee if you are not satisfied or a life circumstance occurs. So you have nothing to lose if you decide to give this online coaching platform a try.
Anyone is welcome to join Kickoff any age, gender, stage of fitness, any type of fitness goal, and even those that are working to recover from an injury.
Benefits of Joining Kickoff
Kickoff has a wide array of coaches that will check-in with you daily to help guide you through the exercise and nutrition program. The platform is also super easy to navigate, and you can find trainers to help you achieve a wide range of fitness goals including;
Lose fat
Tone muscles
Train for a race
Build endurance
Improve nutrition
Improve overall fitness
Recover from an injury
Furthermore, another thing that sets this online personal training platform apart is the crop of trainers it has. You will find highly experienced and certified trainers who also specialize in various aspects of fitness training.
Another benefit of Kickoff is that everyone can partake in training, whether you have a tight schedule or lack access to cutting edge equipment. On Kickoff, your trainer will guide you on your daily workout and meal plans based on your access to training equipment, lifestyle, personal fitness goals, and specific dietary needs.
Coaches on Kickoff are exceptional when it comes to offering motivation, on-demand support, as well as accountability.
Cost of Kickoff
Kickoff offers the choice of paying daily or paying by the month. The cost of the service is just as little as $3 per day or $95 per month. This cost for one month is the same price as only one single conventional session with an in-person personal trainer. There are no contracts to worry about, and there are no hidden fees with the service. If for some reason, you happen to not be satisfied with the program and your trainer, Kickoff, offers a 30-day money-back guarantee if you are not happy.
iBodyFit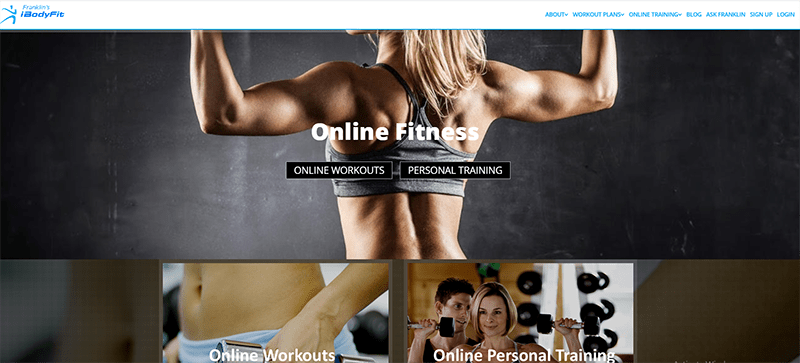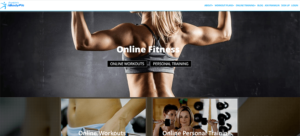 Website: https://www.ibodyfit.com/
You can't talk about the best online trainers on the web and not include Franklin Antoian's iBodyFit. For the record, Franklin is a certified trainer and one of the best in the United States of America. So, you can expect his online training platform to be world-class.
Franklin Antoian is the founder of iBodyFit. He is an ACE certified trainer and one of the Top 50 trainers in the U.S, according to SHAPE Magazine. The platform also started operation in 2006 and has built a solid reputation for itself.
Another highlighted feature of iBodyFit that sets the platform apart is its innovativeness and leadership when it comes to online fitness. Every coach you will come across on this platform is friendly and focused on helping participants achieve their fitness goals.
Features of iBodyFit
While the site has a lot of pictures of women, don't be fooled. The platform has workouts and plans for all genders – everyone is welcome. There are prepackaged already created workout and meal plans if that is your thing or there are custom made individualized training sessions and meal plans available.
For meal plans, there are a lot of options. They offer gluten-free, vegan, low carb, on the go, low fat, organic, vegetarian, and more.
They also have the FitnessGenes DNA testing available. If you purchase a DNA kit, you can have custom workouts created based on your own genetic test results.
Benefits of Joining iBodyFit
On iBodyFit, fitness training is not all about the physical work you put in. The platform ensures that participants have access to quality information about all things nutrition and physical fitness. The information on this platform will keep you in the know regarding everything fitness and also help to offer some inspiration.
Another highlighted feature that sets iBodyFit apart is the custom fitness plans they usually design for their participants. They are simple yet effective and tailored around the equipment you have at your disposal. Plus, there's no need to break the bank to get costly fitness equipment. Whether you have dumbbells, bodyweight, exercise balls, or bands at home, iBodyFit will create a custom workout plan with whatever you have to help you reach your goals.
The platform is also user-friendly, and participants can text, call, Skype, or chat with trainers at iBodyFit via social media.
Cost of iBodyFit
Excitingly, this platform offers a variety of plans to give access to certified online fitness trainers no matter your budget. The fitness plans include the starter plan, VIP plan, and VIP plus plan. The starter plan only costs $49 but comes with tons of benefits.
With the starter plan, you will receive a custom workout program suitable for beginners and tailored around your schedules, fitness levels, and equipment. You will also receive support, motivation, and feedback throughout your fitness journey.
There are a lot of other plans that come with higher price tags like $149, but with the starter plan being $49, iBodyFit is by far one of the best budget-friendly online trainers out there.
Modern Fit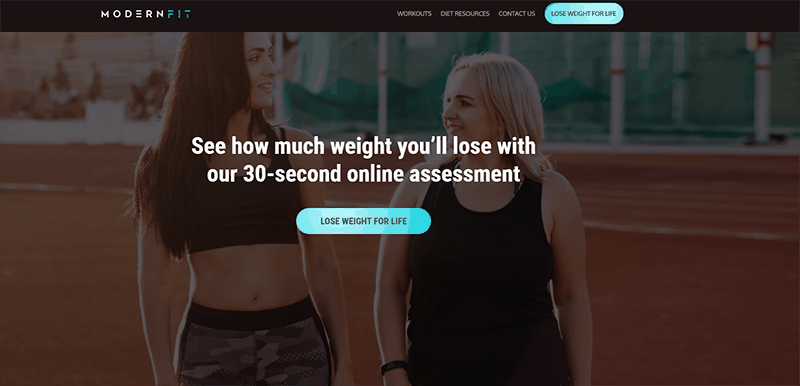 Website: https://www.modernfit.com/
Being able to maintain a healthy weight throughout one's life is important. Obesity may increase the risk of many health problems, including heart disease, certain cancers, diabetes, and high blood pressure, to name a few. So, it is essential to learn proper portion sizes and how to eat right in addition to finding time for physical fitness.
If you haven't found the time yet to hit the gym occasionally with your busy schedule or maybe you can't afford a traditional gym setting, then an online personal trainer might be the best choice for you. Modern Fit is one of the top online personal trainers for helping clients burn fat and build muscle.
Furthermore, this platform has proven to be a reliable online fitness platform. Workout plans are designed for participants with the understanding that there is not a one-size-fits-all workout plan when it comes to losing weight, building muscle, or keeping fit. Also, on this platform, you will only find top trainers to help you achieve your dream fitness goals. You will also find detailed articles about diet, fitness, and weight training from experts who have been in the industry for many years.
Features of Modern Fit
Modern Fit is a platform open to all genders, age groups, and fitness needs. However, the primary goal of this platform is to help people lose weight and gain muscle to be able to obtain the physique they desire.
This online personal training platform understands that everyone has unique health and fitness needs. There is no one size fits all workout or nutritional plan. Everyone has different genetics, goals, schedules, and budget, and workout tools available. And with this understanding, Modern Fit and their coaches can create personalized work out plans for you. These customized plans will help you to achieve your fitness goals in record time.
The benefit of Joining Modern Fit
Modern Fit will not only provide you with an in-depth and practical training routine; their expert trainers and nutritionists work hand-in-hand. Therefore, you will receive personalized eating plans, too.
If you follow the workout and nutrition plans, you will be able to lose weight and get in the best shape of your life. Plus, with the communication from your trainers, it helps to ensure that you stay on track and don't fall off the wagon.
Trainers on with the Modern Fit platform can work with you over the web, or there is even the option for in-person sessions. On the website, you will find trainers for different cities across the United States so that you can find and choose a fitness trainer based on your location.
Cost of Modern Fit
Modern Fit is another innovative and cost-effective online personal trainer platform out there. They offer competitive pricing and the convenience of a mobile app, which makes it easy for trainers to interact with participants.
This platform offers programs for a variety of budgets and needs. So, you should be able to find an option that works for you. The least expensive option is the six-month dedicated trainer plan, which starts at $75 per month. With this option, you will receive personalized fitness programs, a nutritional plan, a 30-minute check-in video from your trainer daily, and additional support.
The additional support is to follow up and make sure you are following the plan and there are any problems so that you can achieve your targeted goal in record time.
Future Fit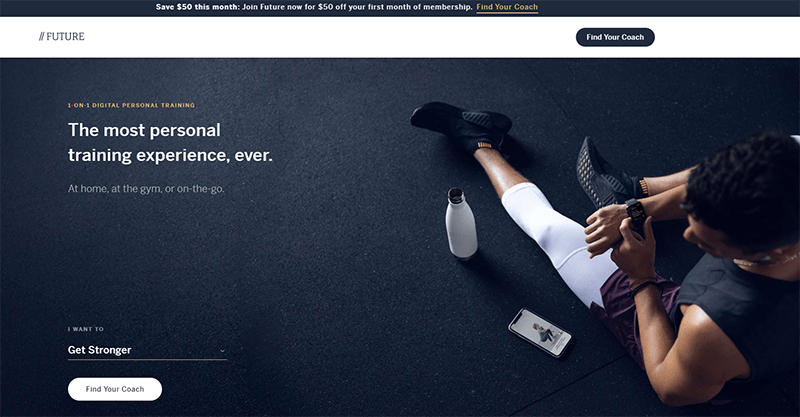 Website: https://www.future.fit/
The online platform Future Fit believes that fitness and training shouldn't be inconveniencing. It should be the other way around. Future Fit brings you the best of personalized online fitness training that there is. With a rating of 4.9 in the Apple app store, we would say a lot of people would have to agree.
Future fit has some of the best coaches and trainers. They have trained everyone from pro athletes to celebrities and have a bachelor's or master's degree in Kinesiology and are certified strength and conditioning specialists. So, you know you are getting top-notch service!
Features of Future Fit
Future Fit, like other top online personal trainers, understands how fast many Americans have become overweight and obese. And it's scary knowing the dangers such poses to one's health.
It is also surprising that most people in this category have unused gym memberships. But what good is a gym membership if you haven't reached your goals after spending so much money? That's why Future Fit devised a means to keep people fit and accountable over the web for a fraction of the cost.
Once you signup, you will receive an Apple watch (if you don't already have one) that keeps you accountable, even if your fitness coach is not local to you. You have the opportunity to interact with your coach multiple times daily. The platform is also open to all genders, no matter if you are a beginner, your location, schedule, or fitness goals.
Benefits of Joining Future Fit
If you are tired of renewing your gym membership or using apps loaded with pre-made exercises, Future Fit is a wise option for you. The platform combines the most exceptional 1-on-1 coaching, coupled with cutting edge technology to deliver quality online personal training.
Whether you want to reduce pain, injury, improve speed, cardio, get active, leaner, stronger, or improve sports performance, Future Fit has the right trainer that can help you achieve your personal fitness goals.
Another unique thing about this platform is that you can choose your desired goal with ease and receive all the support you need. After deciding your fitness goal, Future Fit will assign the right trainer to you. And, even if you usually have a busy schedule, your workout plans will be designed to fit in perfectly.
It also doesn't matter if you have equipment at home or not. Your trainer can assign bodyweight workouts, or if you let them know what equipment you have at home, they can design a workout around what you have available. The training plan is provided weekly and can be adjusted on-demand to suit your lifestyle and schedules.
Cost of Future Fit
Future Fit is another online trainer that is doing great things in the fitness industry. For just $149 monthly, the platform pairs you with a remote personal fitness coach, who understands your fitness goals and how you can achieve them. You will have access to them anytime and receive individualized programming.
Future Fit has also made remote fitness training more comfortable and more productive. Your fitness coach can have access to the data in your smartwatch to ensure that you are keeping on plan and will help to keep you accountable. You will also receive personalized audio coaching, which is a great perk.
Trainiac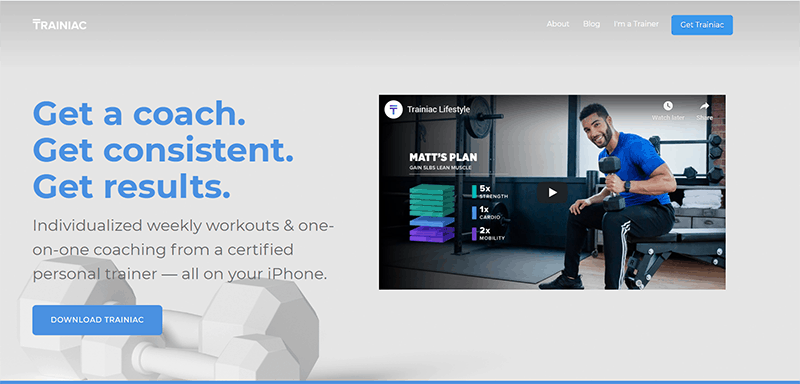 Website: https://www.trainiacfit.com/
Trainiac is another unique individualized online fitness platform developed out of a passion for fitness, by two then tech gurus, Akshay Ahooja and Frank Fan. They had the privilege of working for top tech companies like Facebook and Microsoft before kick-starting their fitness platform.
If you think losing weight and keeping fit is impossible, Trainiac Co-founder, Frank Fan's life story should motivate you. As a software developer for Facebook and Microsoft, all the free food and drinks helped to make him overweight.
With some motivation, Frank Fan was able to lose over 20 pounds through proper nutrition and exercise. Then he joined forces with Akshay to establish Trainiac using their shared passion for technology and fitness to bring an easily accessible way to workout and to stay motivated for life.
Features of Traniac
Trainiac is open to everyone. Your location, schedule, lifestyle, and if you are a workout newbie does not matter. What matters most is your desire to achieve a specific weight loss goal or attain another type of fitness goal like build muscle, for instance.
Trainiac carefully matches its clients with the right trainers. So, rest assured that you will find a personal trainer who will help you achieve your goals. If you lose your way or need some motivation to get going, trainers in this online fitness platform will always be there for you.
The benefit of Joining Trainiac
If you are seeking an online trainer that offers a well-rounded approach to physical fitness, Trainiac is a wise choice. Their fitness-minded approach will help to ensure your overall wellness, help to prevent burnout, and keep you from injury.
Another benefit is the ability to make fitness training enjoyable. Your custom workout would include sports or physical activities that you enjoy doing. Trainiac also knows how to keep it balanced with cardio, mobility, and strength training workouts.
With a comprehensive tracking system, you can't skip training without the knowledge of your trainer. Trainiac synchronizes with Apple Health to provide your entire activity data and health stats from over 50 apps. Your trainer has reasonable data-driven insight on your progress. With that, your trainer can even adjust your fitness program if need be, to help you achieve your targeted fitness goal.
Trainiac also offers a 14-day free trial. During this free trial period, you will have full access to their services and work with a certified trainer. If you are not satisfied after the 14-day trial, you can decide whether or not to discontinue your membership. Additionally, once signed up, you can choose to pause your subscription and resume whenever you want.
Cost of Traniac
To get started at Trainiac the cost is $79.99 per month. For this price, you will have access to a certified fitness coach, customized workout plan, and a comprehensive tracking system. The tracking system will give your trainer a better insight into your day to day fitness and calorie burns so that they can make adjustments to your plan if necessary.
CALIBER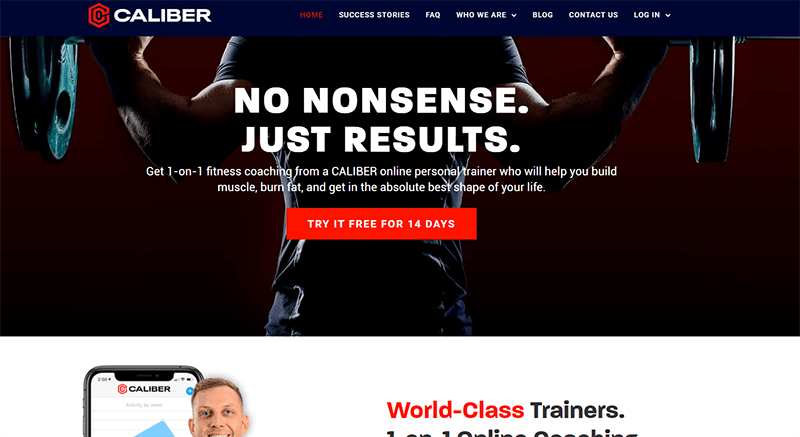 Website: https://caliberstrong.com/
If you are unsure about working with a trainer online, the success stories of those who have used Caliber should inspire you. On their home page, there are inspiring stories from their clients that work with them that include progress pictures.
Founded by Chris Muir and Justin Fauci, the Caliber Method is a unique approach to achieving your strength training goals. This online personal fitness platform was established out of a passion for fitness. The aim is to help people get leaner, healthier, and build bodies they would be proud to show off anytime without anything complicated.
Features of CALIBER
Caliber is open to everyone. The coaching and everything about this platform is online. Once you sign up, you will be asked about your eating habits, current workouts, lifestyle, and what you want to achieve. The information you provide will enable Caliber to match you with the right trainer on the platform.
Then, your trainer at Caliber will take the information you provided on signup and design a custom workout plan and nutrition for you. The program will be to help you achieve your targeted goal. All you need to do is follow the workout plan and be ready to drop any unhealthy eating habits.
Benefits of CALIBER
At Caliber, you will enjoy the great flexibility the platform brings. You can work out in a gym setting or at home. Plus, the nutrition plans accommodate different diets like gluten-free, keto, vegan, allergies, and more.
Your fitness coach will check in once a week to ensure you are keeping on track and to see how the previous week went with food and the workouts. At that time, they will give you the plan for the week ahead. You can message your coach at any time through the mobile app or by email.
Caliber also offers a free 14-day trial, which gives you full access to premium services. If you are not satisfied after the trial period, you can opt-out if you so choose.
Another benefit of using Caliber is that billing is monthly – you aren't locked into a whole year. You can cancel at any time.
Cost of CALIBER
The cost of membership at Caliber is $99 per month, which can be more affordable than a gym membership. Plus, frequently, people stop going to the gym because it isn't convenient for their schedule, and then they end up wasting money.
For the price of Caliber, you will have access to a personal fitness trainer that will work with you to help you meet your goals. The one-on-one support from trainers at Caliber is out of this world.
Openfit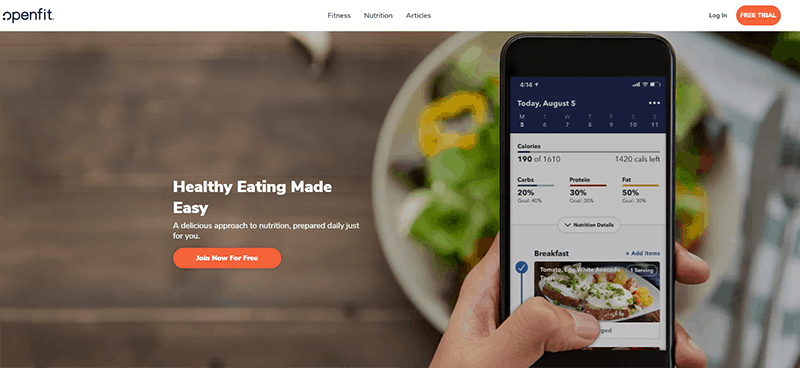 Website: https://www.openfit.com/
Innovation and technology are the two factors responsible for the growth of the online fitness niche. Now, people can remain in their homes, perform their workouts, and achieve massive results. You don't have to spend a fortune to get a gym membership.
For an online fitness platform like Openfit, all you need is an internet service and membership to get your body back to how you want it. It is an all-in-one digital streaming fitness platform, where you can join live fitness classes or stream expert videos on nutrition, fitness, and wellness.
The founder and CEO of Openfit, Jon Congdon, has for long been an advocate for wellbeing and health. His balanced approach to nutrition, fitness, and wellness also makes Openfit a world-class fitness platform.
Features of Openfit
Firstly, Openfit is for all genders, age groups, and fitness needs, whether you are a newbie to fitness or are used to getting in a good workout. Being a member will give you access to personalized meal plans every day. If you want to lose weight, cut down on sugar, or increase certain things in your diet – Openfit can help you meet your nutrition goals.
As a member, you can participate in whatever class you find pleasing. You will discover diverse classes such as barre, HIIT, strength training, tough mudder, Yoga, and many more.
If you are not interested in participating in live classes, Openfit has other options for you. You can stream videos of various training programs led by highly ranked fitness trainers.
There is also a live fitness community to help offer support during your fitness journey. You can share progress pics and fitness tips and share advice. It can help to have a community to talk to when on a fitness journey to help keep inspired and motivated.
There are also articles on the website on a variety of fitness and nutrition topics that many find helpful. Topics such as, 'when to eat near a workout,' or, 'what to eat near a workout' or 'how to make a protein shake.'
Benefits of Openfit
Openfit gives you the option to either participate in live training classes or stream on-demand fitness training videos. But the best part is that you can still receive real-time feedback from expert trainers.
Whether it is a live class or pre-filmed fitness training video, Openfit has made everything engaging and straightforward for every single participant. There is never a dull moment. From the moment you start the class or stream the video, you will be inspired to work out and get in better shape.
Openfit's top priority is to help people to lead a healthy and happy life. So, whether you are looking to lose weight, build muscle, tone up, and condition your muscle, or achieve other fitness goals, you will find the platform useful.
This platform also offers a free trial for 14 days, and you can cancel your membership whenever you want. Additionally, you can access or stream videos on Openfit on various devices, such as iOS, Android, tablet, laptop, TV, Chromecast, or via Roku.
Cost of Openfit
If you are looking for a budget-friendly, engaging, and result-oriented online fitness trainer, Openfit is one to consider strongly. There are three different options. They deem the best value of all three at just $8 per month or $96 per year.
There are other plans you can choose, but the least of them is $8 per month.
RightFit Personal Training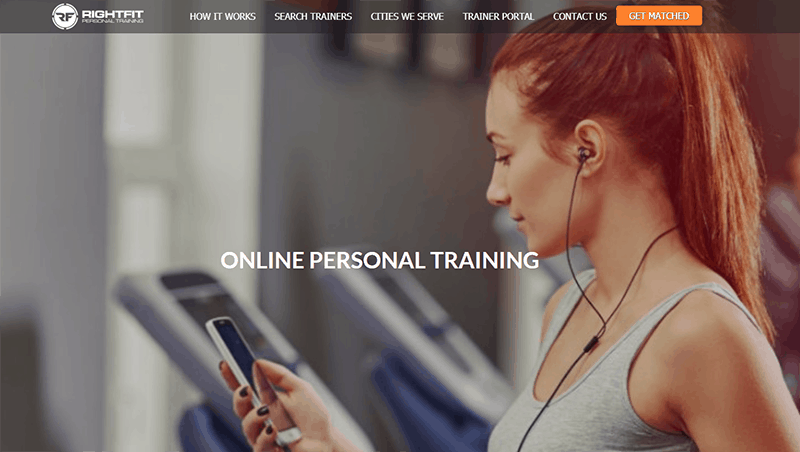 Website: https://www.rightfitpersonaltraining.com/online-personal-training/
Whether you prefer receiving training instructions over the web or prefer to have a personal trainer visit you from time to time, RightFit Personal Training can help you arrange that. For the record, this fitness platform is a marketplace designed to connect people with independent trainers.
On RightFit Personal Training, only insured and certified trainers are allowed to be on the platform. So, once you sign up and get matched to a trainer, rest assured that you are in good hands. The platform has shown that it prioritizes quality and customer satisfaction above all else. RightFit started in 2014 and has been in business for quite a few years. And that alone shows that they have been doing something right.
Features of RightFit Personal Training
This platform is open to everyone. Your fitness goals and current fitness level also doesn't matter, as RightFit Personal Training has certified and experienced trainers in various categories, who can help you to reach your goal.
RightFit Personal Training does not only deliver training classes online. The platform also organizes private personal training and on-site fitness sessions for those who are interested.
Benefits of Joining RightFit Personal Training
In addition to serving as a virtual fitness platform, RightFit also provides one-on-one training or group fitness sessions. Also, once you become a member, you will be eligible to enjoy the platform's personalized workout plans and have sound knowledge of how much progress you have made in real-time, every step of the way.
RightFit also offers other private services in addition to online and on-site fitness training. These include massage therapy, healthy meal delivery, and nutrition counseling. Of course, you can't achieve your goals without proper eating habits. Therefore, besides an effective workout plan, RightFit creates a nutritional plan for you.
Cost of RightFit Personal Training
RightFit offers three different packages to make the services available for a sizeable number of participants. These include a hybrid package, premium package, and platinum package. The hybrid package is the most cost-effective of the three and costs $100 per month.
However, the hybrid package, which is the smallest package, doesn't include access to video or phone consultation. But you will receive personalized workout plans, track in-person workouts, two online work out via software together in addition to in-person, and tracking of progress via an online portal.
Not all cities are available for in-person training, so it is important you check out their site to see if your city is available. It is important to note that other fees may apply, or minimum purchases may be required.
Forge Fitness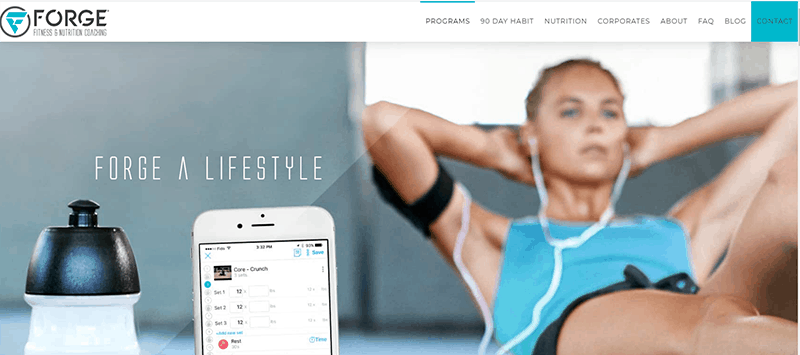 Website: https://forgept.com/forge-fitness-programs/
Forge Fitness was founded by Michael S. Parker, a fitness professional who has been in the industry for decades. He is a certified sports injury specialist, personal trainer, fitness nutritionist specialist, lifestyle, and weight management specialist. As you can see, Michael has a great deal of experience and knowledge when it comes to physical fitness.
So, if you are looking for a fitness coach that knows the ins and outs of physical fitness, Forge Fitness is a wise choice. Besides the founder, Michael, Forge Fitness has an impressive list of fitness professionals in various categories. So, irrespective of your fitness goal, you will find a fitness trainer that will help out.
Features of Forge Fitness
Whether you are a male or female, Forge Fitness is for you. The platform is open to all gender, age group, and fitness needs. Plus, your location, race, or skill level does not matter.
Furthermore, Forge Fitness also works with corporate organizations. So, if you want to reduce lost workdays and keep your employees physically fit, Forge Fitness claims to have a unique solution for you.
You can sign up for the 30 days, six weeks, or 90-day fitness challenge to help keep your workers or team members in top shape.
Benefits of Forge Fitness
Forge Fitness is not the most budget-friendly personal trainer on this list, but the experience of the coaches on the platform is incredible.
It is possible to also instant message your trainer from the Forge Fitness mobile app, 24 hours, and any time of the week with no limits. The coaches on this platform are super responsive and are ready to provide the support, motivation, or answers you seek.
Another benefit of using Forge Fitness is that the trainers are there for you every step of the way. In addition to designing custom workouts, they build nutritional plans to accelerate your fitness results and help you develop healthy eating habits.
Cost of Forge Fitness
Forge Fitness is not the most budget-friendly online training platform out there. However, the content of each package they offer shows that you are getting your money's worth.
Forge offers three different plans, a standard fitness coaching plan, complete fitness and nutrition coaching plan, and a premium fitness and nutrition coaching plan.
The least expensive plan is the standard fitness coaching plan, which is priced at $100 per month. However, it would make sense to check out the content of each of these plans before you decide which is best for you.
Nerd Fitness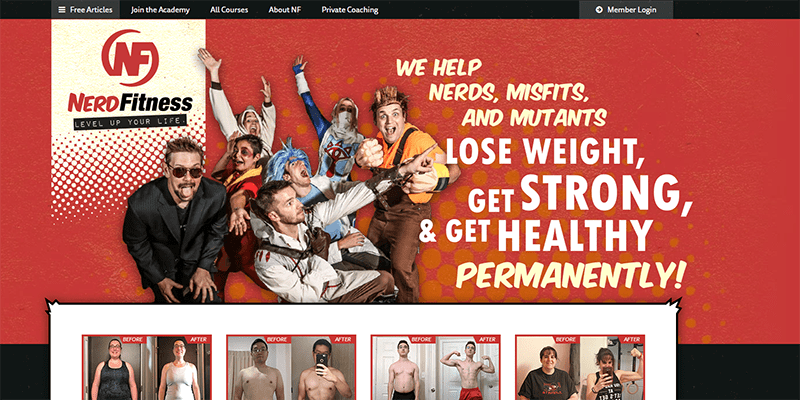 Website: https://www.nerdfitness.com/
Since 2009, Nerd Fitness has been helping people across the globe to lose weight, build strength, and get back their confidence. What makes this platform unique is how they try to make work out fun and enjoyable.
When you signup as a member, Nerd Fitness lets you build a unique character on the platform, complete specific quests, and get results. This makes the online workout fun and challenges you to put more effort.
Features of Nerd Fitness
Anyone can join and sign up for private coaching with Nerd Fitness. It gives participants access to expert fitness trainers who can instruct, support, and push them to achieve their fitness goals. On this platform, you will also find tons of free informative articles on diets physical fitness to keep you in the know.
Benefits of Nerd Fitness
In addition to designing at-home custom workouts for you, being a member of this platform gives you access to live fitness classes, and you can also participate in challenges if you choose.
In Nerd Fitness, everything about the workouts is fun. The platform also gives you access to tons of different workout programs, so you can challenge yourself and increase your level of fitness or just keep physically fit.
The quests and challenges serve as good motivating factors and can give you the push you need to get started each day. Nerd Fitness also has one of the most supportive fitness communities, unlike some other online fitness platforms out there which don't have online communities.
Cost of Nerd Fitness
You can gain access to the Nerd Fitness Academy for only $99 per month. However, if you are interested Nerd Fitness also organizes training camps from time to time. Access to one of their training camps can be anywhere from $849 to $1049, based on if you require a private room.
Final Thoughts
Remote fitness training can offer a lot of benefits that traditional workouts with a trainer can't. Since you don't need to make an appointment, it is easier to work fitness into a busy lifestyle. Everything is typically for a fraction of what you pay for traditional fitness training, plus, you can get an online trainer who can help to create a personalized workout and meal plan for you.
The support, check-ins, and accountability also make online personal trainers worthwhile. While there are a lot of personal trainers out there, hopefully, this list will help make the choice a little easier for you.
Frequently Asked Questions
How does online personal training work?
Typically, how online personal training works is once you signup, you are asked a series of questions to assess your current fitness level, if you have equipment at home, your current nutrition, lifestyle, fitness goals, etc. From there, you will be matched with a trainer that will be able to help you meet your fitness goals, and that is a good match for your personality and needs.
Depending on the platform, you may have video chats or text interactions with your trainer and communicate through an app. You will get video workouts online some live, and some may be pre-recorded. Depending on the platform, some will meet you in person. You will be sent nutrition guides as well. Your trainer will follow up with you to ensure everything is going well with your diet and workouts and send new workouts and nutrition updates. You will be billed daily, monthly, or yearly – it depends on the platform.
Why should I join an online personal trainer?
There are tons of reasons you should consider joining an online trainer. Firstly, online training is budget-friendly. Furthermore, your workout will be built around your schedule and available equipment. Another reason is that there is high accountability. In most world-class online fitness platforms, even if the coach isn't going to be there with you physically, he or she may have data-driven insights regarding your progress. So, your coach can tell if you are working out or not.
Will I be motivated to workout with an online fitness coach?
Sometimes, we all need that little push of motivation. And that's where a lot of traditional fitness trainers can fail. It's hard to find a coach in the gym that will treat you like a friend and can help to motivate you every step of the way.
It is possible you are training with a group of people, and they are being pulled in different directions or, a lot of personal trainers only train by the hour. This means that they teach you for the hour and may give your advice on what to do in the off-time that they don't see you but won't follow up with you until your next time block.
But with an online personal trainer, your fitness coach will be more available to check up on you and motivate you to workout. Most of these platforms have apps that make communication between participants and trainers as easy as possible. So, yes, your online fitness coach will be there to motivate and support every step of the way. Seeing the amazing body transformation of other clients may also help to motivate you to take your training to the next level.
How can I identify a good online personal trainer?
To identify the best online personal trainer, you will first want to look at the trainer's certification. He or she should possess a fitness training certificate from a properly accredited agency and be certified in CPR, AED, and First Aid at a minimum. There is also nothing wrong is asking a trainer to show you his or her certificates.
Also, it couldn't hurt to ask for any references from either their current or former clients to get a feel for how they are as a personal trainer. You might also locate reviews for the trainer yourself online on their website or Yelp. Your money, time, and health are at stake here, so it is important to ensure that they are legit.